White Labeling & Dropshipping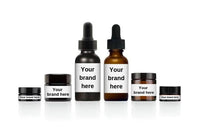 White Labeling
Our white label program was designed to make it easy for both, budding first time entrepreneurs to launch their brands and seasoned already operating brands to seamlessly switch to a more reliable supplier.
Dropshipping
We launched our dropshipping program to provide business owners a trusted partner so you can focus on selling while we take care of the rest. We will handle formulation, manufacturing, bottling & packaging, fulfilling orders, and shipping those orders out to your customers.
Overview: White Labeling
We created our white label program to provide entrepreneurs a trusted partner in launching their own brand without needing to invest in all the infrastructure to grow, extract, and manufacture their own products so you can focus on selling while we do the rest. We provide packaging options and lab tests on all of our products. However, if you'd like to provide your own packaging to us, don't want lab tests, or are looking for just bulk pre-mixed products that you'll package yourself we can adjust pricing accordingly. Also, ordering multiple SKUs provides additional savings. Contact us to learn more. We are here to help you wherever we can.
Overview: Dropshipping
We recently launched our dropshipping program to empower entrepreneurs that want to focus on selling and not spend time on non-revenue generating activities. Pricing will be the same as our white labeling program but we will charge $2 for picking & packing, $5 for First Class Shipping, $9 for priority, and additional fees for storing your inventory. We require that you purchase 40 units per SKU of the lower potency products and 15 units per SKU of the higher potency products upfront that we use as the inventory for your customers' incoming orders. Don't hesitate to reach out. We are here to make this process as smooth as possible for you.
Samples, Payments & Returns
If you would like to sample a variety of the products we offer, we are happy to send over our products for you to try before you commit to placing your full order. We charge $200 for our sample pack (which include droppers, creams and chocolates) and will apply $100 of that towards your first order with us. We don't accept returns or refunds on white label and/or dropshipping orders. We recommend ordering the sample pack prior to placing your order so you can try all of our products before making a decision. Delivery times vary depending on SKUs and the number of units. 50% payment upfront and the remaining 50% due upon completion of your order.
White Labeling & Dropshipping Application